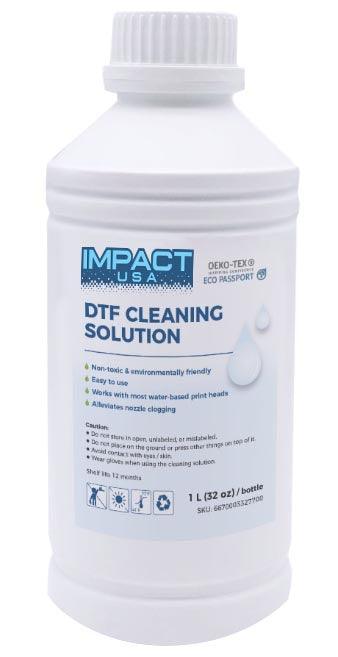 DTF Cleaning Solution Epson Printheads 1 Liter
by INKJET PARTS
Introducing our DTF Cleaning Solution – the essential companion for maintaining the peak performance of your direct-to-film printing equipment. This cleaning solution offers a range of benefits to keep your printing operation running smoothly.
Ideal for Head Soaking: Our DTF Cleaning Solution is perfectly formulated for head soaking, ensuring the thorough and gentle cleaning of printheads. Say goodbye to clogs and uneven ink distribution as this solution effectively dissolves residues and dried ink.
Efficient Ink Removal: Cleaning excess ink off the capping station is a breeze with our cleaner. It effortlessly removes ink build-up, preventing capping issues that can disrupt your printing process and lead to costly downtime.
Printhead Flush: When it comes to printhead maintenance, precision is key. Our DTF Cleaning Solution provides a safe and effective means of flushing printheads, keeping them in optimal condition for consistently high-quality prints.
Reliable Performance: Trust in the reliability of our DTF Cleaning Solution to extend the lifespan of your printing equipment. Regular maintenance with this solution ensures that your investment continues to deliver exceptional results over the long term.
Keep your direct-to-film printing setup in peak condition with our DTF Cleaning Solution. Whether you need to soak printheads, clean the capping station, or perform routine maintenance, this versatile solution is your go-to choice. Maintain the efficiency, consistency, and longevity of your printing equipment effortlessly – choose our DTF Cleaning Solution for your cleaning needs.